Greek Island hopping from Athens – A detailed guide with Greek travel tips
This Greek island travel itinerary begins in Athens. Greek Island hopping from Athens is a popular and exciting way to explore the country's stunning islands, each with its own unique charm, culture, and landscapes. Greece is known for its beautiful blue waters, white-washed buildings, ancient ruins, and delicious Mediterranean cuisine. 
Greek island travel itinerary, guide, and travel tips
Choosing which Greek Islands to visit is going to be a personal choice and will vary for everyone. When I sailed through several of the Greek Islands, I loved every minute of it. No matter where you decide to go, I think you'll love it.
I will say that, in my personal and unpopular opinion, I preferred Athens to Santorini. I know, I know, everyone LOVES Santorini and I'm not saying it wasn't amazing because it is stunning, but the culture and vibe of Athens is more my speed. Use these Greek travel tips to help you decide where to go.
Greece has numerous islands, each offering a distinct experience. Some of the most popular island groups for island hopping include Cyclades, Dodecanese, Ionian Islands and Saronic Islands. Crete is the largest of the Greek islands and can be a trip itself! Here are only some highlights of the islands:
The Cyclades are an island group in the Aegean Sea and we are going to start here.
Santorini
Santorini, officially known as Thira, is one of the most famous and iconic Greek islands, located in the southern Aegean Sea. Known for its stunning sunsets, dramatic landscapes, and charming towns, Santorini offers a wealth of experiences for travellers. Here are detailed insights into what Santorini has to offer:
Sunset Views: Oia is renowned for its breathtaking sunset views. The town's clifftop location offers an unobstructed view of the sun sinking into the Aegean Sea. Many visitors gather at the Oia Castle and along the narrow streets to witness this daily spectacle.
Capital Town: Fira is the bustling capital of Santorini and offers a wide range of restaurants, bars, shops, and cultural attractions.
Santorini Wineries: Santorini is famous for its unique volcanic soil and indigenous grape varieties. Take a wine tour and tasting at local wineries to sample wines such as Assyrtiko and Vinsanto.
Sunset Sailing: Experience a romantic sunset sailing excursion, complete with dinner and drinks, as you watch the sunset over the Aegean.
Greek travel tips – if you are interested in getting those iconic flying dress photos in Santorini, be sure to book far in advance to avoid disappointment. I have heard they get booked up very quickly.
Paros
Paros, a gem in the Cyclades, exudes a blend of traditional charm and modern vibrancy. Its captivating features include:
Naoussa's Allure: The picturesque village of Naoussa welcomes visitors with its narrow alleys, harbour, and vibrant nightlife. Stroll through the quaint streets and enjoy seaside dining.
Golden Beach: A paradise for water sports enthusiasts, Golden Beach offers ideal conditions for windsurfing and kitesurfing. Its sandy shores are perfect for relaxation.
Panagia Ekatontapiliani: Visit the Byzantine church, Panagia Ekatontapiliani, known as the Church of 100 Doors, a testament to Paros' historical and architectural significance.
Day trip to Antiparos: Antiparos is a tiny, luminous Greek island in the South Aegean. It's so small that many assume that it's just a day trip destination.
Naxos
Naxos, the largest island in the Cyclades, is a multifaceted destination that seamlessly blends history, natural beauty, and authentic Greek culture. Discover its allure through these highlights:
Chora's Charms: Chora, the island's main town, captivates with its winding streets, Venetian architecture, and the imposing Portara, a massive marble gateway that stands as a remnant of an ancient temple.
Beach Escapes: Naxos spoils visitors with its diverse range of beaches. Agios Prokopios beckons with its azure waters and soft sands, while Plaka Beach offers a tranquil haven for sunseekers.
Mythical Past: Immerse yourself in Naxos' mythological history by visiting the Temple of Apollo and the intriguing kouros statues at the archaeological museum.
Local Cuisine: Νot only renowned for its beautiful landscapes but also for its delicious local cuisine. Naxian cuisine offers a tantalizing blend of traditional Greek flavours and unique island specialties.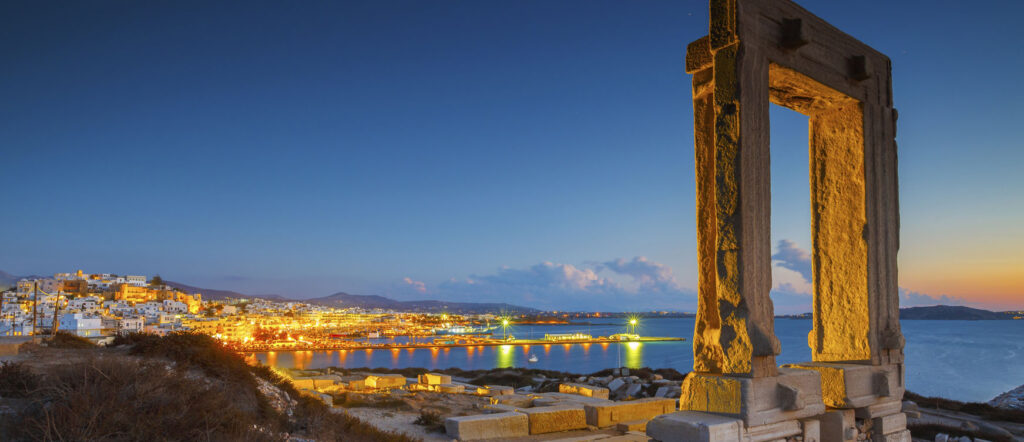 Milos
Known for its unique geological formations, crystal-clear waters, and picturesque villages, Milos offers a diverse range of attractions and experiences. Here's an exploration of some that Milos has to offer:
Sarakiniko Beach: This moon-like landscape is characterized by white volcanic rock formations that contrast beautifully with the deep blue sea. It's a popular spot for swimming, sunbathing, and cliff jumping.
Kleftiko: Accessible only by boat, Kleftiko is a series of sea caves and rock formations. Explore the caves, snorkel in crystal-clear waters, and marvel at the unique geological features.
Plaka: The island's capital, Plaka, is a charming hilltop town with traditional Cycladic architecture. Stroll through its narrow streets, visit the Folklore Museum, and enjoy panoramic views.
Adamas: The island's main port, Adamas, is a bustling hub with restaurants, shops, and a lively waterfront promenade. It's a convenient base for exploring the island.
Dodecanese Islands
Rhodes
Rhodes, the largest of the Dodecanese islands in Greece, is a captivating destination that seamlessly blends rich history, stunning natural beauty, and vibrant modern culture. Here's an overview of what makes Rhodes a remarkable place to visit:
Old Town: Rhodes Town's UNESCO-listed Old Town is a marvel of medieval architecture. Explore the Street of the Knights, the Palace of the Grand Master, and the impressive fortifications.
Lindos: Visit the picturesque village of Lindos, crowned by the Acropolis. Climb the ancient site for panoramic views and explore the charming village streets.
Greek travel tips – be sure to wear proper footwear like running shoes when touring and climbing the ancient ruins. Nothing can ruin a trip like a sprained ankle.
Beaches: Rhodes boasts stunning beaches such as Tsambika Beach, Faliraki Beach, and Anthony Quinn Bay. Pristine sands and crystal-clear waters await.
Valley of the Butterflies: This unique nature reserve is home to thousands of butterflies. Wander through the lush valley and witness this enchanting spectacle.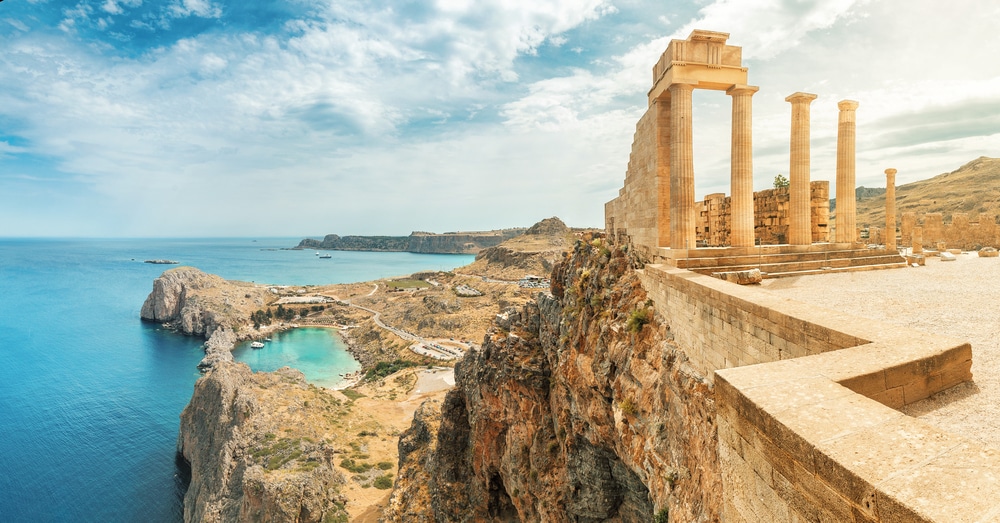 Kos
Kos, a charming Greek island in the Dodecanese archipelago, is celebrated for its rich history, stunning beaches, and vibrant atmosphere. Here's an overview of what makes Kos a wonderful destination:
Asclepeion: Explore the ancient healing sanctuary of Asclepeion, where Hippocrates taught medicine. The site offers historical significance and panoramic views.
Kos Town: Wander through the town's historic streets, visit the Castle of the Knights, and enjoy the vibrant town square with its cafes and shops.
Thermal Springs: Embrace relaxation at the island's natural thermal springs, such as Embros Therma. Soak in warm waters that are said to have therapeutic benefits.
Beaches: Tigaki Beach, Paradise Beach, and Mastichari Beach are just a few examples of Kos' pristine shores.
Patmos
Patmos, a small but historically significant Greek island in the Dodecanese archipelago, is known for its rich religious heritage, serene beauty, and picturesque villages. Here's an overview of what makes Patmos a unique and captivating destination and why it should be included in your Greek Island travel itinerary.
Cave of the Apocalypse: Visit the sacred cave where St. John is said to have received his revelations that led to the Book of Revelation. The site holds deep religious significance.
Chora: Explore the charming village of Chora, with its traditional architecture, narrow streets, and welcoming tavernas.
Monastery of Saint John: Dominating the island's skyline, this medieval monastery houses priceless religious artifacts and offers stunning views.
Beaches: Relax on beaches like Psili Ammos and Grikos Beach, where clear waters and tranquillity prevail.
Symi
Symi, a postcard-perfect Dodecanese island, entices you with its colourful architecture and tranquil ambiance. Discover its unique attractions:
Neoclassical Beauty: Gialos, Symi's main harbour, boasts neoclassical mansions painted in pastel hues. This waterfront area creates a captivating first impression.
Panormitis Monastery: A spiritual haven, the Panormitis Monastery showcases intricate architecture and religious relics. It's a revered pilgrimage site for both locals and visitors.
Secluded Beaches: Explore secluded coves accessible by boat, such as Nanou Beach and Marathounda Beach, where turquoise waters meet unspoiled shores.
Ionian Islands
Corfu
Every Greek Island travel itinerary should include a visit to Corfu. Corfu, also known as Kerkyra in Greek, is a stunning island in the Ionian Sea, famous for its lush landscapes, rich history, and vibrant culture. Here's an overview of what makes Corfu a remarkable destination:
Corfu Town: Wander through Corfu Town's narrow streets, influenced by Venetian, French, and British architecture. The Liston, a row of cafes, is a must-visit spot.
Achilleion Palace: Visit the opulent palace built by Empress Elisabeth of Austria. Admire the neoclassical architecture and the stunning gardens.
Paleokastritsa: Explore this picturesque coastal area with stunning coves, crystal-clear waters, and a medieval monastery.
Beaches: From Kavos to Glyfada, Corfu offers a variety of beaches catering to different preferences.
Zakynthos
Zakynthos, often called Zante, is a stunning Greek island located in the Ionian Sea. Known for its beautiful beaches, vibrant nightlife, and natural wonders, Zakynthos offers a diverse range of experiences for travellers. Here's an overview of what makes Zakynthos a captivating destination:
Navagio Beach: Iconic and breathtaking, Navagio Beach is famous for its shipwreck set against turquoise waters and towering cliffs. The beach will remain closed to visitors for 2023, as there is a serious possibility of landslides.
Blue Caves: Embark on a boat tour to discover the Blue Caves, where sunlight creates a mesmerizing play of colours on the sea's surface.
Keri Village: Visit this traditional village perched on a hill. The Keri Lighthouse offers panoramic vistas over the azure Ionian Sea.
Turtle Watching: Zakynthos is home to loggerhead sea turtles. Join guided tours to observe these gentle creatures in their natural habitat.
Kefalonia
Kefalonia, the largest of the Ionian Islands in Greece, is a destination known for its diverse landscapes, pristine beaches, and rich history. It offers a tranquil escape for those seeking natural beauty and cultural exploration. Here's an overview of what makes Kefalonia an amazing island to visit:
Myrtos Beach: One of the world's most stunning beaches, Myrtos Beach is characterized by its dramatic cliffs and turquoise waters.
Assos: A picturesque village with pastel-coloured houses nestled beneath a Venetian fortress. Stroll along the waterfront and savour fresh seafood.
Melissani Cave: Explore this magical underground lake with emerald waters, accessible by boat. The sunlight creates enchanting reflections on the water.
Mount Ainos: If you're into hiking, tackle the trails of Mount Ainos National Park, home to unique flora and fauna.
Ithaki
Ithaki, also known as Ithaca, is a small yet captivating Greek island located in the Ionian Sea. Famous for its ties to ancient Greek mythology and its unspoiled natural beauty, Ithaki offers a tranquil and idyllic escape for travellers seeking a peaceful retreat.
Here's an overview of what makes Ithaki a charming destination and why it belongs on your Greek Island travel itinerary.
Odysseus' Myth: According to legend, Ithaki was the home of Odysseus. Visit the Cave of the Nymphs and the School of Homer, believed to be the poet's supposed school. Fun fact: Homer's The Odyssey is my all-time favourite book!
Vathi: The island's main town offers a relaxed atmosphere. Stroll along the waterfront, visit the Archaeological Museum, and savour local cuisine.
Anogi Village: Discover this charming village known for its traditional architecture and stunning views of the surrounding landscape.
Afales Bay: Enjoy the unspoiled beauty of Afales Bay, where crystal-clear waters meet lush greenery.
Lefkada
Lefkada, an Ionian gem, strikes a harmonious balance between rugged landscapes and idyllic beaches. Its attractions include:
Porto Katsiki: Renowned globally, Porto Katsiki's stunning beauty is enhanced by its dramatic cliffs and clear blue waters. A true paradise for beach lovers.
Agios Nikitas: This charming village offers an authentic taste of Greek island life. Meander through narrow streets, enjoy traditional tavernas and relax on the small but charming Agios Nikitas Beach.
Lefkada Town: The island's capital is a blend of modern amenities and historical significance. Visit the archaeological museum and explore the Venetian fortress.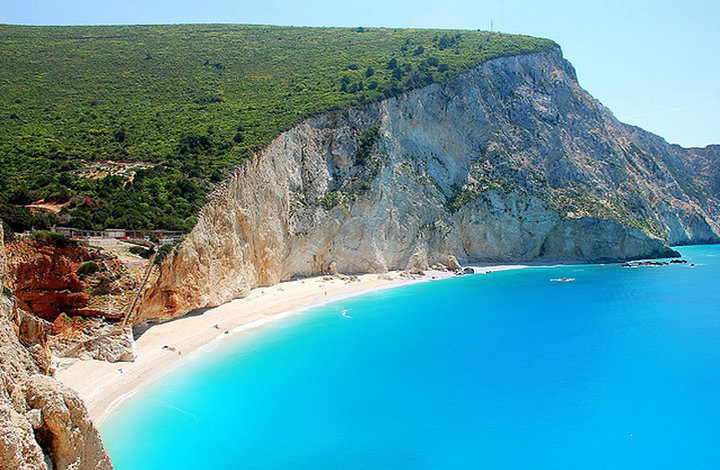 Saronic Islands
Aegina
Aegina, a picturesque island in the Saronic Gulf of Greece, is a charming destination known for its rich history, beautiful landscapes, and cultural significance. Here's an overview of what makes Aegina a delightful place to visit:
Temple of Aphaia: Explore the well-preserved ancient temple dedicated to the goddess Aphaia. The hilltop location offers splendid panoramic views.
Aegina Town: Wander through the town's streets, visit the Archaeological Museum, and try the island's renowned pistachios.
Agia Marina: Relax on this popular beach with golden sands and shallow waters. Numerous beachside tavernas offer fresh seafood.
Perdika: This traditional fishing village is known for its laid-back vibe and waterfront tavernas. Enjoy fresh catches while watching the sunset.
Hydra
Hydra, a unique and captivating island in the Saronic Gulf of Greece, is celebrated for its picturesque harbour, historic charm, and car-free environment. Here's an overview of what makes Hydra a remarkable destination and why it needs to be on your Greek Island travel itinerary.
Car-Free Bliss: Hydra's charm lies in its absence of cars. Explore the island on foot, donkey, or water taxi. I am a huge fan of water taxis and think this is a fantastic way to explore a new city.
Hydra Town: Wander along the waterfront promenade, lined with cafes, boutiques, and art galleries. The Historical Archive Museum offers insights into the island's past.
Beaches: Hydra boasts rocky beaches with crystal-clear waters. Vlychos Beach and Kamini Beach are popular spots for swimming.
Mount Eros: For hiking enthusiasts, tackle the trail to the summit of Mount Eros for panoramic views of Hydra and the surrounding sea.
Poros
Poros, a serene and picturesque island located in the Saronic Gulf of Greece, is known for its natural beauty, relaxed atmosphere, and quaint villages. Here's an overview of what makes Poros a delightful destination:
Lush Landscapes: Poros is known for its verdant landscapes, olive groves, and pine forests.
Poros Town: Explore the charming town with its neoclassical architecture and the iconic clock tower overlooking the harbour.
Russian Bay: Visit this scenic bay named after the Russian naval base established in the 19th century. Discover the remnants of this historical presence.
Beaches: The island offers several beaches for relaxation, including Love Bay and Askeli Beach.
Crete
Crete, the largest of the Greek islands, is a remarkable destination that offers a rich tapestry of history, culture, natural beauty, and adventure. Here are some of what makes Crete a truly exceptional place to explore:
Chania
Venetian Harbor: Chania's Venetian Harbor is a picturesque blend of Venetian, Ottoman, and Greek architecture. Stroll along the waterfront, admire the lighthouse, and explore the atmospheric old town.
Chania Archaeological Museum: Delve into Crete's ancient past at this museum, which showcases artifacts spanning different periods, including the Minoan civilization.
Chania Market: Wander through the bustling Agora Market to experience the vibrant local life, purchase fresh produce, and sample traditional Cretan goods.
Greek travel tips – be sure to sample as much traditional Greek food as you can find. I am a huge proponent of seeking out the foods the locals eat.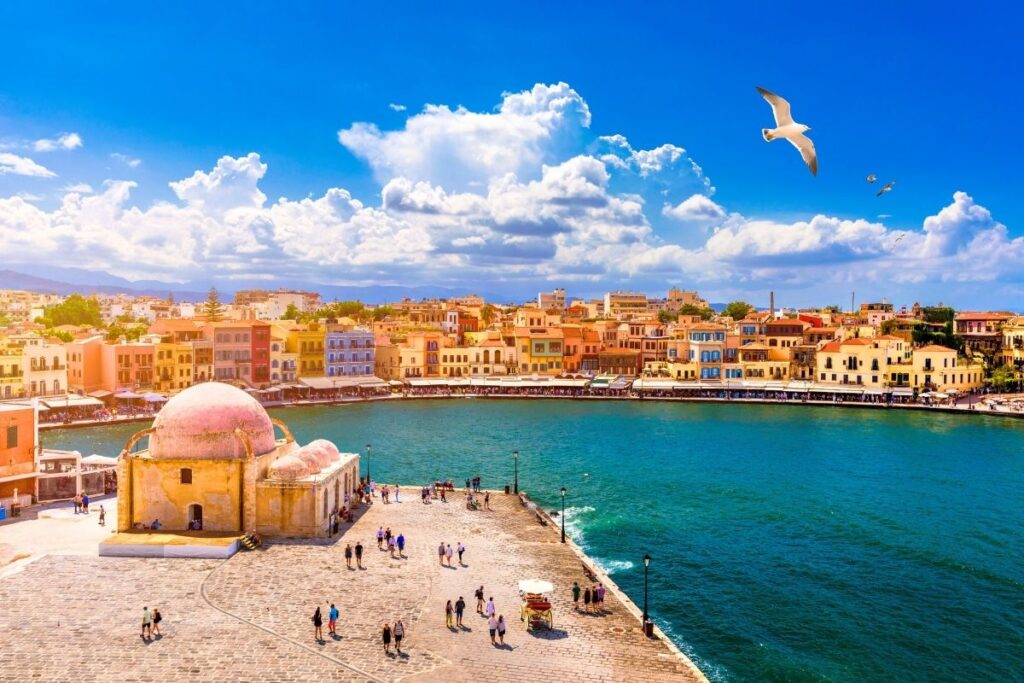 Rethymno
Fortezza Fortress: Visit this imposing fortress that overlooks Rethymno. The panoramic views and historical significance make it a must-see site.
Venetian Harbor: Similar to Chania, Rethymno boasts a charming Venetian harbour lined with cafes and tavernas. Take a leisurely stroll and soak in the atmosphere.
Archaeological Museum of Rethymno: Explore a collection of artifacts that provide insights into the island's history, from the Minoans to the Byzantine era.
Heraklion
Palace of Knossos: Delve into the legendary Minoan civilization by exploring the ruins of the Palace of Knossos. The intricate frescoes and architectural marvels are awe-inspiring.
Heraklion Archaeological Museum: This museum houses an extensive collection of Minoan artifacts, including the famous Snake Goddess figurine.
Historical Sites: Heraklion is home to several historical sites, including the Venetian Fortress Koules and the ancient city walls. For me, the stunning image below is enough to convince me to add this city to my next Greek Island travel itinerary.
Getting Around Greek Islands
Ferries and catamarans are the primary means of transportation between islands. There are various ferry companies operating routes connecting the islands. Some islands also have airports, allowing for quicker travel between certain destinations.
I took one of the large passenger ferries from Santorini to Mykonos and it was quite the experience! Embrace the local culture and take a ferry to truly enhance your Greek island exploring.
If you don't want to do any planning, check out Little Travellers. As Europe Travel planners, they assist you in crafting a well-balanced travel schedule, taking care of all your tickets. They aim to maximize your time by putting together your Greek Island travel itinerary for you.
Greek Travel Tips for Planning Your Trip
Here are some Greek travel tips for planning a successful island-hopping adventure in Greece:
Duration: Decide how much time you have for your trip. Island hopping can range from a few days to a couple of weeks.
Creating the Itinerary: Choose the islands you want to visit and create an itinerary based on their proximity and ferry schedules. Consider spending a few nights on each island to truly experience its atmosphere.
Ferry Tickets: Depending on the season, it's advisable to book your ferry tickets in advance, especially if you're travelling during peak tourist months (summer).
Accommodation: Book accommodations in advance, especially if you're visiting popular islands. There's a range of options, from luxury resorts to budget-friendly hostels.
Local Cuisine: Enjoy Greek cuisine, which includes fresh seafood, olives, and feta cheese!
Cultural Etiquette: Familiarize yourself with local customs and etiquette to show respect for the local culture.
Activities: Each island offers unique activities, from exploring ancient ruins and museums to hiking, water sports, and relaxing on beautiful beaches.
Athens And Greek Islands Itinerary can be overwhelming, considering the number of islands, beaches, and activities to choose from. A Customized Trip Planner can take the stress out of travel planning by creating fully customized itineraries based on your interests and time constraints. This service is ideal for first-time travellers or those seeking inspiration for their adventure.
Greek Island Hopping Travel Tips
Travel in the shoulder seasons (spring and fall) to avoid the peak tourist crowds and enjoy more moderate weather.
Be prepared for a relaxed pace of life, especially on smaller islands.
Pack essentials like sunscreen, a hat, comfortable shoes, and swimwear.
Learn a few basic Greek phrases; locals appreciate the effort.
Respect the environment by following eco-friendly practices and not disturbing local flora and fauna.
Conclusion – Greek Island Travel Itinerary & Tips
Greek Island trips from Athens offer a chance to experience the beauty and diversity of the Greek islands, each with its own character and allure. Whether you're seeking relaxation, adventure, history, or stunning landscapes, Greece's islands have something for every type of traveller.
Whether you love planning your own trips or decide to use a European trip planner to design a customized Greek island-hopping adventure for you, you're going to love Greece. It's a stunning country with so much to see and do.
So, what are you waiting for? Start planning your dream trip today and embark on the ultimate Greek adventure of a lifetime!
Related posts about Greece you may also enjoy